Earlier on in my career as a content designer someone once said to me that no one reads government websites for fun. When you work on GOV.UK every day, it can be easy to forget what it's like for someone who isn't as familiar, someone who needs something urgently, or someone who needs to do a thing with government before they can get on with the rest of their 'to do' list.
Even though I haven't set up a business myself, I know that browsing more than 50 pages to do so is the opposite of fun.
In a recent project to improve guidance for new businesses, we reduced that number of 50 down to 16 pages. As a result of our changes, we observed:
a 25% increase in clicks to services that people need to use when setting up businesses – showing that more people were finding what they needed

a 5% decrease in average numbers of pages per session to get to those services – showing that users were getting there more quickly
Of course, we didn't set out to get rid of a specific number of pages. We started with user needs and talked to people from the very beginning and throughout the project.
Start with needs
We started with fresh pieces of paper, post-its and minds. For example, we had a feeling that 'Avoid and report anti-competitive activity', whilst important, wasn't the first thing that sprung to people's minds when starting a business.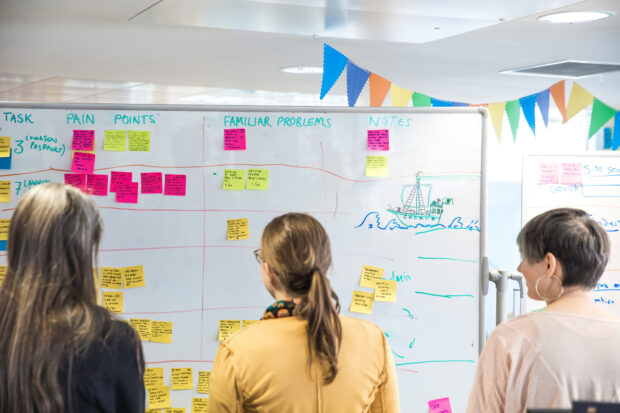 We reviewed existing user research that helped give us an understanding of how people think, and go about starting a new business. Their actions, emotions and pain points were recorded on experience maps. One of the main findings was that their interactions with government were limited to compliance-driven needs. These were seen as peripheral to users' mental model of starting a new business.
We combined these findings with data on what users are searching for and looking at now and drafted a list of user needs. We then talked to more people in the process of setting up their business. This helped us refine the list of user needs and confirm what the priorities were for our users:
I'd never go to government for help and advice, no… When it comes to tax, and limited company, then I'd go to government.
Users don't care who does what, so we need to work together
When I say 'we', I don't just mean Government Digital Service (GDS). GOV.UK content for the general public and small businesses is called 'mainstream'. This is published and maintained by GDS, who work with government departments and agencies to ensure the facts are right.
But people don't care about internal processes – they just want to 'do the thing' (for example, set up their limited company, or register for self-assessment).
We've always worked together to:
validate user needs

identify further pain points with existing content with 'cognitive walkthroughs'

develop content plans

review, redesign and rewrite content

check the facts

plan for major changes (unpublishing, redirecting)

establish evaluation frameworks
'We' included content designers, user researchers and subject experts from Companies House, Department for Business, Energy and Industrial Strategy, HMRC and GDS.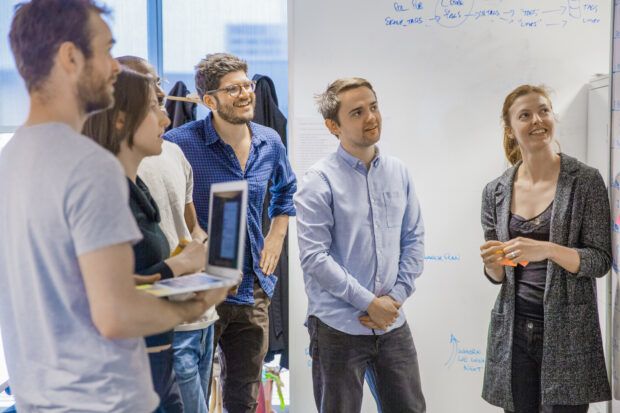 Be bold and unpublish
It can be nerve-wracking removing content that's been there from the very early days of a website. It might be well-established in search engine results, have lots of referrals from other sites, have thousands of unique page views a day. However, if the findings from user research and analytics suggest that it's not working, then you have two options:
Do nothing, learn nothing.

Be bold, do something and learn from it.
This is easier said than done. We found that real quotes and videos from user research helped show that change was needed. We also visited and talked to business support helpline advisers to share new content with them and listen to their feedback.
It's also useful to make it clear:
how users will be redirected from any pages you're removing

that you plan to measure the impact of the change

that your solution isn't etched in stone and you're open to trying something else if the new approach doesn't work
Talk to users, then talk to them again
We talked to people setting up businesses throughout this project, not just once. Not only was I inspired by those starting a new venture, I learnt something new every time and was motivated to make improvements after every session.
The last round of user research showed that the guidance provided on setting up business types is clear and, despite some minor issues, users were clearer about what to do for each business structure. We met people who hadn't fully decided, and in most cases they felt that the content made them more confident about the best structure for their business:
It's clear and easy to use. I could have written that myself.
Unlimited partnership
One of the most positive experiences on this project was the way in which we were able to draw on evidence from both data and user research to make the case for change. And this doesn't stop when we hit the 'publish' button (or the 'unpublish' button).
We'll keep evaluating how well GOV.UK is meeting the needs of people starting a business in the UK, and collaborating with our colleagues across government to make it better. We've also shared feedback on GOV.UK search with the teams working to improve how people find things.
We'd welcome your feedback on the 'Set up a business' pages on GOV.UK.

Follow GDS on Twitter, and don't forget to sign up for email alerts.