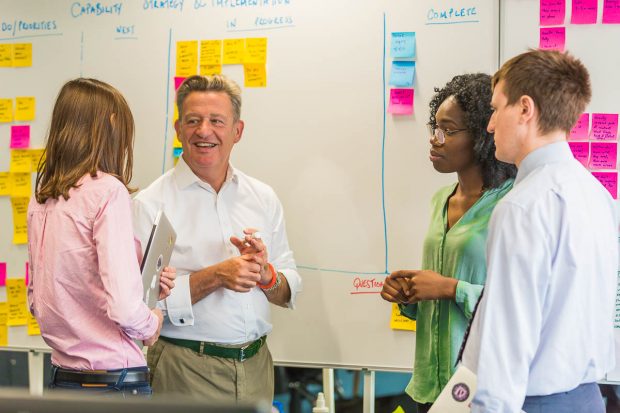 On 14 September 2017, applications will open for the digital, data and technology (DDaT) Fast Stream scheme 2018, aimed at graduates and existing civil servants. The scheme consists of 6 placements over 4 years. Fast streamers will work in up to 6 government departments, in various UK locations.
There's no doubt that the DDaT Fast Stream is where we'll see the leaders of the future emerge. As head of the DDaT profession, I'm hugely excited about this scheme.
Unique opportunities
Our colleagues across departments can be very proud of the steps they have taken to transform and build services that meet the needs of their users.
But we know there is a lot more to do, and to enable that we must continue to build a diverse, innovative workforce. With the challenges of Brexit, security, and improving how we use data, there's never been a more exciting time to join the Civil Service. Nor more of a crucial time to ensure we recruit the best people possible. The DDaT Fast Stream has an important role to play in this.
With its unique learning and developmental package, as well as its career-enhancing potential, the Fast Stream scheme is very popular among new graduates. In 2016, The Times ranked the Fast Stream fourth out of its top 100 graduate employers.
Not just for graduates and tech experts
However, we're not just interested in people fresh from university. We also welcome applications from people well established in their careers in the Civil Service.
Everyone has something unique to bring to the Fast Stream, and to get the kind of innovative, driven talent that we're seeking, we look far and wide. For this reason, we don't require you to have a technical background; you'll learn everything you need on the job. And you'll learn fast.
Building diversity into government  
It's vital that we attract candidates that represent UK society as a whole. This means appealing to diverse candidates across all backgrounds. We've made progress in improving who we recruit in this respect, ranking number 12 out of 50 in the Social Mobility Employer Index, published in June 2017. The index recognises employers who have taken the most action to improve social mobility in the workplace. But we know there's much more that can, and should, be done. And we're doing our best to fix it.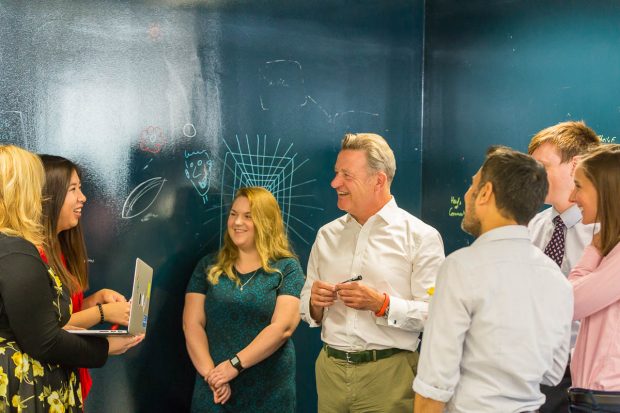 What sort of work do DDaT Fast Streamers do?  
On the DDaT Fast Stream, participants gain a rich grounding in many different areas of digital. A typical placement might include innovative, large-scale and complex projects in fields like artificial intelligence, cyber security, data analytics and data science, or robotics. You might be involved in user research, or building web services and creating content for websites. You'll also have the chance to train in agile methodologies at the GDS Academy. With the expertise you gain, you may even end up advising ministers on digital, data and technology policies.
Placements are available throughout the UK, giving Fast Streamers unique opportunities to learn quickly about, and adapt to, different kinds of challenges in government.
There are fixed roles for Fast Streamers working directly with me, and I have seen first-hand how varied their working days can be. I've also seen how quickly their expertise in digital, and confidence in their abilities, grows over the course of the placement. And I've seen many of them go on to rewarding roles in the Civil Service.
Skills that translate across the public and private sector
As technology develops at a rapid pace, employers both inside and outside the public sector are making digital talent a priority. The DDaT profession is the youngest in government, established in response to the growing need to hire and nurture the skills of the 21st century workplace in the Civil Service.  
The DDaT Fast Stream will help you to develop skills that employers will value, spanning a wide variety of specialisms. The skillset we aim to develop is one that will be useful to you throughout your whole working life. But more than that, it'll put you in a position to do work that genuinely improves lives. And that's a tremendously important thing.
Although the Fast Stream is a 4-year commitment, we see it as the first chapter of an exciting long-term career in the modern Civil Service. Thanks to initiatives such as the GDS Academy, which allow you to continuously develop your knowledge and expertise as you progress, there will never be a point where your learning comes to a halt.
Register your interest
You can learn more about the scheme on the DDaT Fast Scheme site. If you'd like to register your interest, please send us an email. This is an incredible opportunity for anyone looking to accelerate their career in digital. Whether you're a graduate, or an experienced civil servant, I very much hope you'll consider putting yourself forward.