Hi there! I'm Vimla Appadoo.
I've just finished my first week as a Service Designer at DWP Digital, where I've hit the ground running joining the Fraud, Error and Debt product development unit.
Learning by doing
One of the best things about my first week with the DWP has been learning by doing. If I'm being completely honest, I was worried that I would spend my first week being inundated with 100-page documents that I'd have to read, digest and then implement (which isn't always the easiest way to learn for visual or oral learners).
The reality couldn't have been more different.
My first week was a whirlwind, from being introduced to everyone in the team, to diving deep into my first discovery with the Fraud, Error and Debt team. There was no waiting around and the culture of moving fast and solving problems was inspiring to see.
Not only did I feel incredibly inspired, but I also felt a wave of motivation, particularly when I joined the DWP's Women In Technology networking meetup. It was enlightening to see and hear that the DWP has numerous initiatives across the organisation to address diversity issues throughout every department and every job grade, encompassing diversity of every sort. This was a great opportunity to meet some of the inspiring women that I'm working with, and also showed me that DWP practices what it preaches – there's a real effort to make a change to ensure that the department is as inclusive as possible and giving opportunities to everyone.
Meeting new colleagues
I feel like I've joined DWP Digital at the perfect time. Not only did I get to take part in the Women In Technology meetup, but I also attended the first DWP Digital Product Design meetup as well. The conference brought together 120 people from the Product Design team from all six DWP hubs across the UK, for the first time.
Although I'm working with the Fraud, Error and Debt team, I'm part of the wider Product Design community at DWP Digital. The conference was a crash course in everything that the team and the community has been putting into practice but it was also an opportunity to meet everyone that I'll be working with throughout my career with DWP Digital.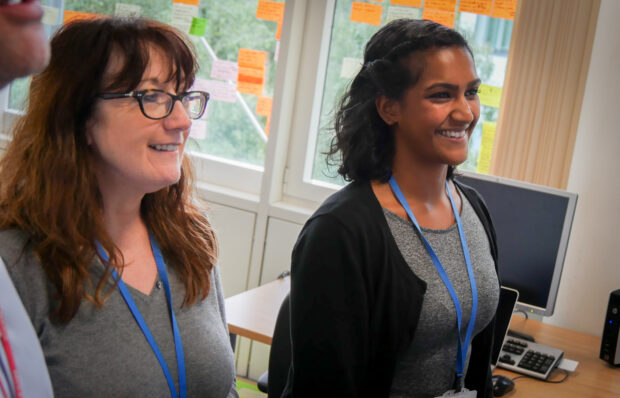 It was a quick and easy way to find out how DWP Digital have been embracing agile and how product design units have been using multi-disciplinary collaboration to problem solve. The highlight for me was seeing how Service Design is being used to give a high level perspective of digital and non-digital services across government.
Finding out about debt management
And finally, my last day of my first week, I was well and truly immersed in the working world of debt management. I spent some time shadowing debt managers to understand more about their end to end service when dealing with Direct Earning Attachments and employers. It was my first chance to uncover how different systems connect and it also gave me the opportunity to learn about the customer journey. It was really useful to get a better understanding of my role within the wider DWP Digital team.
At the end of my first week, I feel like I've been truly welcomed into DWP Digital with open arms, everyone has been incredibly friendly and there's a real sense of community and camaraderie. I couldn't have hoped for a smoother start and feel at home already – part of a growing team and ready to get straight into some problem solving!