Earlier this year, the Youth Justice Board for England and Wales (YJB) successfully completed the migration of an important platform from UKCloud to Amazon Web Services (AWS). As a result, we are set to save £5m over the next four years and achieve efficiencies and benefits for users. We would like to share some of our learnings with you.
The platform
The YJB is an independent arm's length body of the MoJ. One of our responsibilities is to provide the AssetPlus Assessment Framework, statutory reporting services and a wide-ranging service-based application platform called the Youth Justice Application Framework (YJAF). These services are provided to:
the secure settings that hold children
over 150 local authorities
the Youth Custody Service (YCS) Placements team
internal analysis teams at the YJB and the YCS
YJAF does a few things. It connects with all the case management systems used by local authority run youth offending teams (YOTs). It sends and receives Case Management Systems (CMS), providing a bi-directional secure messaging service that supports the submission and receipt of AssetPlus assessments of children in contact with the youth justice system, Placement documents, other related documents and Statutory Quarterly Reporting returns over the YJB private network.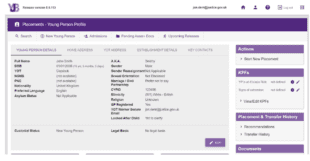 It is also a custodial management system that links YOTs, the YJB, the YCS and secure settings (comprising youth offender institutions, secure training centres and secure children's homes). Access was via a browser either over the Public Service Network (PSN) or our own private network.
Let us rewind ….
The YJAF platform was created initially as an Exemplar Minimal Viable Product back in 2015 to support a more modern way to receive statutory quarterly returns from the YOTs via their local case management system. Discovery, development and delivery of the MVP followed Agile methodologies, bringing Business and Technical resources together, a first for the YJB and its development partner at the time.
Late in 2015 the YJB initiated a procurement to enhance the now live MVP and incorporate the required CMS capabilities that were currently delivered by a legacy application (eAsset) along with Business derived feature enhancements. Later that year, I2N Ltd, later acquired by Northgate Public Services (NPS), were identified as the Agile supplier of choice and the process to discover, develop and deliver commenced. The full YJAF platform went into live service in 2017 and was hosted in the UKCloud Cloud Platform where it was further developed and supported until early 2021.
Working with the MoJ Modernisation Team
In early 2019, the MoJ Modernisation Team began to engage with service owners both internally and within Arm's Length Bodies. Its aim was to promote the MoJ AWS Cloud Hosting Platform as a route towards efficiencies and cost savings. We, together with the MoJ, AWS and NPS, took time to look closely at:
what was on offer
how the YJAF service could be made to fit
the clear benefits to end users
business as usual budgets and ensuring value to the taxpayer.
This culminated in an agreement in principle to migrate YJAF to AWS. Following a successful business case delivered by our Independent Architect and signed off by senior management, the creation of the required governance structure was completed, and the project started in earnest during late Autumn 2019.
Counting the benefits
The business case highlighted:
Reduced costs –spending to save would achieve a saving of circa £5M over the 4 years following migration. This was confirmed at the project closure board.
Simplification – the YJAF platform was originally built to separate services depending on the access channel (PSN, Internet or Private Network). This is no longer necessary and therefore the service could be presented as "one".
Internet Facing – The YJAF platform should no longer require access through PSN or the private network and all browser interactions would be over the public internet.
Collaborative – All design and documentation would be maintained in the MoJ Atlassian platform. This would future proof against change and help get new team members up to speed.
Licence costs – expensive commercial off-the-shelf product licences would be removed as part of the migration.
Refresh – components within YJAF would receive a tech refresh.
Secure – we would redesign and refactor where possible to avoid National Security Cyber Centre anti-patterns.
Consume software and platform as a service (SaaS and PaaS) where possible to improve resilience and scalability as well as reducing maintenance overheads.
Adopt MoJ Standards were possible – all code was moved to MoJ Public Git code repositories.
Service Management – there was improved configuration management, service protection and monitoring, automated healing, patching etc.
Development and release – a continuous integration and continuous development pipeline was built between Git and the Runtime environments to improve the frequency and efficiency of software releases, and reduce the downtime required.
Removal of a private network – an evolving process to remove any reliance on a closed user group network of connectivity as directed by Government Digital Service guidelines of Internet first.
Agile development but a Waterfall infrastructure
By late Autumn 2019, the full team was on board. This included our ICT team, Independent Architect, the Northgate Public Services Development/Architecture/Infrastructure team and key individuals from MoJ Digital and Technology and the AWS MoJ Account Team.
The new functionality required to support the removal of legacy components, software upgrades, and the refactoring of code was managed under a Sprint framework. This made best use of an iterative development methodology and fully embraced communications and feedback.
We and our delivery partner NPS fully embraced the Agile development methodologies back in 2016 and for this migration, knowing the amount of refactoring and development that would be necessary to write out legacy or expensive components, it was definitely the way to go.
We met daily, doing so virtually post March 2020, which was very important as we built our team ethos, particularly during the pandemic. It was generally a challenge to keep the meeting to the 15 minutes planned, but the benefits of social engagement across a dispersed team, in isolating circumstances, more than outweighed a few minutes lost to other more formal activities.
The delivery of infrastructure was more Waterfall in nature. This resulted as the requirements were already well understood, and documented, therefore a more traditional structured 'Waterfall' approach was appropriate. This did not require anything different from a management perspective. Activities and dependencies were still managed in Jira, actors attended Stand-ups, and progress was presented to the AWS Migration Board monthly. All documentation for the build was created in Confluence so that there are effective links between assets, and the tasks that created them.
The Well Architected Review
A service we benefited from was the AWS 'Well Architected Review'. These sessions are designed to bring out discussion over five key pillars:
Operational Excellence
Security
Reliability
Performance Efficiency
Cost Optimisation
They help the customer identify areas that require additional consideration during the development, deployment, or migration processes. We found them especially useful, highlighting things we did not know about, or confirming things we did. It is a very useful process for confirming a state of readiness, and if your project is offered this service, we really recommend that you take it up.
Lessons Learned
expect the unexpected
Scrum works for software and infrastructure, but choose the most appropriate Agile process to suit the team/project
flexible resources give better coverage
working remotely is truly beneficial, but don't ignore the human element
keep the whole team engaged (daily)
effective collaboration requires honesty and openness
never make assumptions about security and privacy, always check and test
Success
The YJAF Platform – fully migrated, simplified, efficient, cost effective, secure and performant was ready in Live service for its users in late January 2021.
Onwards and upwards
Continuing the enhancements, new features, and fixes from the go-live has been important to test, flex and tune development cycles, culminating in zero downtime deployments of iterative releases by March 2021.
The next 12 months of intense business led, child focussed feature and integration development by NPS will continue to engage regularly with MoJ D&T and the AWS teams to provide ongoing assurance and where possible generate further efficiencies going forward.